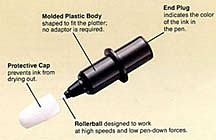 66 Series - Rapidoplot Rollerball Pens
A specially designed pen with metall ball tip which produces consistent lines at high speeds. The pen's primary application is check plots.
Use on the following plotters:
Alphamerics, Datageneral 4435, DEC LVP-16, Enter Computer, GE Calma DDM, Gerber Scientific 060, 065, 075, GTCO, Hewlett Packard 72XX Series, 74XX Series, 75XX Series, 9872 Plotter, Hitachi Seiko, IBM 7XXX Series, 6180, Matsushita, Mimaki, Mutoh iP100, Optical Computer, Penman Products, Rika Denki, Roland DG, Sekonic, Sekonic SPL 430, Soltec SPL 430, United Innovations, Yokogawa, Zeta Sprint.

Rollerball Fine - .3mm 4 Pens per Pack
CLEARANCE SALE LIMITED QUANTITES!